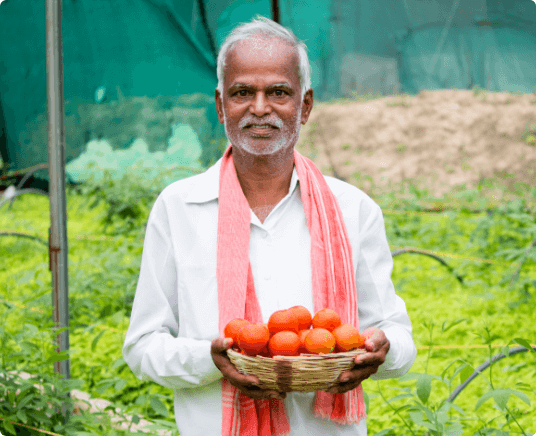 We all need our family farmer, just like our family doctor
Like you, we also wish that the food we bring to the table is truly nutritious. That's why, we give you a personalized, transparent, and convenient farm-to-family experience.
As farmers, we believe in wholesome nutrition. Many claim high quality, but seldom any of it is scientifically provable. So we decided to bring all daily nutrition needs of a family, right from the farms to each family with provable quality. Humpy was born as a family farmer – Your Family Farmer.
Why is your Family Farmer, a Good Farmer?
Soil, Environment, Consumer

This soil is a gift to us from mother Earth. And we believe that organically nurtured soil leads to healthier nature. And healthier nature offers better nutrition. We choose cow urine, neem oil, etc. as well as cow dung to prepare natural pesticides and fertilisers over toxic chemicals.
Over 20% of GHG is contributed by wrong farming practices alone. We preserve environmental wealth, through climate-smart, organic farming practices and sustainable packaging.
As consumers we all want to have complete visibility into the products we consume. With the help of traceable quality and farmer network, we aim to be life-long family farmers to our consumers.
The Humpy farms
Use Of Drones

Collection of crop data for advanced analytics

Controlled Farming

Use of hydroponic, poly-house,
and shade net

Farm Management Software

Crop data management from data-capturing, reporting to analytics

Financially Viable Technology

Automation for irrigation, sowing,
spraying and land preparation

Monitoring Systems

Soil sensors, drone sensors,
CCTV cameras

Digital Documentation

Knowledge repository of farming
data & practices to help other farmers